EASY VENT ONE CAR MOBILE MOUNT
MRP
Rs. 1,400
Rs. 1,149
FREE

Shipping
(Inclusive of all Taxes)
Patented QT technology, Made in Korea. 3+ million customers already using ZAAP mounts worldwide. 

Meet the future of luxurious Car Mount. Imagined by Marc Nelson, widely acknowledged as industrial designer of this generation, CES Innovation Award winner, Recommended by Leading Media & Automotive influencers worldwide. 

Application: Car Vents.Estimated lifespan of 3+ years.

Users now have a mounting option beyond the typical dashboard or windshield. It is more compact than most vent mounts in the market which provides for a cleaner, organized look.

Technical Specs: Fits mobile devices 2.3--3.5 inches wide, 360 degree rotation, In built shock stabilizers & made using UV-proof ABS plastic.
Featured

In
Loved by

Influencers
Do

Good
Customer

Reviews
Customer Reviews
This is best
After trying multiple car holder, this is best. It fits properly and very flexible horizontally as well as vertically. Also it has sliding provision to charge the mobile also while docked in the car holder. Awesome product. Using this for more than 5 months, till now no problem faced. Thanks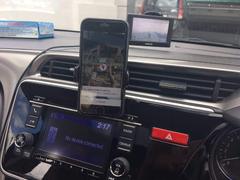 Good Quality Product
I have been using various mobile holders since last 3 years but never seen a holder with such a good quality, multiple adjustments, locks and perfectly fits samsung galaxy s7 edge. Even if the arm is extended the grip is so good that it does not vibrate..I Strongly recommend this product also looking for other products from manufacturer..keep it up...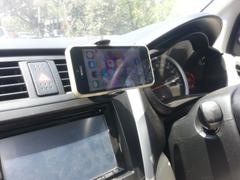 Highly Recommended!
This is a high quality product and the price charged is totally justified. Build material is solid, finish is top notch, functions work like a charm, handling is sturdy and overall look is absolutely brilliant. You may find products which may seem come near but if you pay attention to details nothing comes close to this. Worth the investment if you love your car and have an eye for perfection. Highly recommended.
Competely satisfied with the buy!!!
Excellent Product & lives up to the promises made by the seller. 360degree rotation, mounts my Nokia 635, OnePlus & Samsung phones... which I have tried. Easy to mount/unmounts & the suction is really strong, but allows the flexibility to be moved from one place to the other by its unique technique. When I bought it, I was a bit reluctant thinking the price is a tad higher as we see many cheap options as well. But after buying & having used it for 2 months now, I have no second thoughts about my buy. If you are in a dilemma... think no further, I am sure you will love the product just as I do. My thumbs up for this product!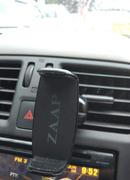 Good build quality car mount for smartphones
1. Good build quality and design. 2. Holding power is pretty strong
You might also like